Turbo Productions
a division of Turbo Productions, Inc.
206-420-6646
<![if !vml]>

<![endif]>
To book TheTemptations Revue - A Tribute featuring Nate Evans for a live engagement, call us or simply fill out an Entertainment Request Form and a Turbo Productions agent will contact you within 24 hours.
This quick questionnaire will ask you the right questions so we can better serve your specific needs as quickly as possible.

Absolutely No Obligations!!!!
____________________________________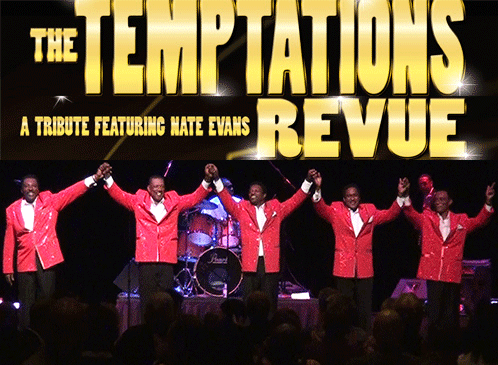 The Temptations Revue featuring Nate Evans
Live at the Bellagio Hotel in Las Vegas
<![if !vml]>

<![endif]>
Nate Evans - As former lead singer of the Rock-n-Roll Hall of Fame inductees, The Impressions, Evans was specially selected by original Temptations lead singers Eddie Kendrick, David Ruffin, and Dennis Edwards to join the group. Following the passing of these original members, Evans now leads the group with his soulful voice in this spectacular tribute performance.
Much more than a tribute! This show is a musical extravaganza dedicated to the late Temptations... filled with songs from the library of one of the greatest Motown acts of all time...
Therefore, the moves and arrangements performed by this group are a replica of the original Temptations show.
This group assembled by Nate Evans... is comprised of Ollie Bolds, Ritchie Stanley, Reggie Reed and Lawrence Jefferson

__________________________________
The Temptations Revue- A Tribute Featuring Nate Evans




Live at the BBC in London
The 

Temptations Revue - A Tribute Featuring Nate Evans 


Interview with CBS
Eddie Kendricks, David Ruffin, Dennis Edwards & Nate Evans 


Live at the BBC in London

The Impressions with Nate Evans
Nate Evans - Main Squeeze
____________________________________
206-420-6646
2326 28th Ave S.   Seattle, WA 98144
© 1995-2017
All Rights Reserved